FF Instrumentation stocks a versatile range of temperature and humidity dataloggers, ensuring that we have a logger for your application. Browse our selection below, or call us to discuss your application and let us advise which solution will be best for you.
 The iButton range of dataloggers are extremely small and rugged, offering excellent value for money. The iButtons' unique size make it possible to log temperature and humidity data in locations that were previously unthinkable
---
24/7 real-time wireless data logging
---
A light and portable multi-input USB unit
Four external inputs support multiple external sensors, as well as internal humidity & temperature sensors.
---
Stand-alone professional data acquisition device that is fully compatible with standard industrial sensors - Eight high resolution 16-bit sensor inputs
---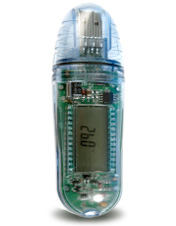 Plug and record mini data loggers - Low cost, water resistant, multi-trip temperature data logger, with 16-bit resolution, 4-digit LCD
---
MicroLog - low-cost portable data loggers with temperature and humidity inputs and an external input for connection to MicroLog's temperature, current, voltage and pH sensors
---
The compact and easy-to-use disposable PicoLite USB data logger provides a simple solution for temperature monitoring, throughout mass transportation cold chain processes.
---